Volume 3 is the most collection of award winning real-life examples of leading organizations who apply leading practices to outperform the market. Learning from the outperformers in terms of what works and what does not work, the book is structured as a practical guide for Executives, Managers, Practitioners, Researchers and Students with hands on descriptions of how to the work with it.
From the executive layers that define the strategies, the critical success factors and the goals of the business. To the business managers that administer, governs, evaluate and monitor the business as well as the operational layer, responsible for the deliver an execution. Details and what works and how and where to apply the learned will be in the various cases.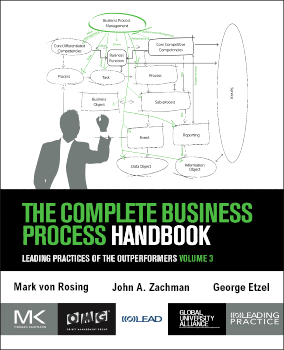 What Executives, Managers, Practitioners, Researchers and Students need to know about:
Real-world and BPM Award-Winning examples from industry leaders
In-depth look at how to adopt leading BPM practices to improved competitive advantage.
Learn how the leaders apply business process today and how to get started
Explore how to differentiate by linking business models to process model, therefore including performance and value drivers.
Discover ground-breaking new research on BPM best practices, LEADing practices and Outperformers vs Underperformers.
Learn from the leaders the structure the way of Thinking, Working and Modelling.
Explore the lessons learned from the outperformers
Explore benefit from a comprehensive compilation of applied real-world examples of LEADing practices early adopters.
Practical guide how to apply the lessons learned.
Avoid the common pitfalls that lead to failed BPM projects, and ultimately, poor BPM adoption.