Volume 2 is the most comprehensive body of knowledge around Extended Business Process Design and Management. Revealing new research and gives the most comprehensive picture on contemporary Business Process Management (BPM).
A practical guide for Executives, Managers, Practitioners, Researchers and Students with a on descriptions of how to work with it.
Written by the authorities that have shaped the way we think and work with processes today. It stands out as a masterpiece, being part of the BPM bachelor and Master degree curriculum at universities around the world, with revealing academic research and insight from the leaders in the market.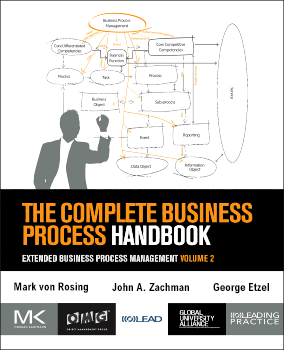 What Executives, Managers, Practitioners, Researchers and Students need to know about:
Ground-breaking new research on BPM best practices, LEADing practices and outperformers vs. underperformers
Linking between Business Model and Process Model
Discover how to link to strategy and critical success factors
Combine Enterprise Architecture & BPM
Explore the importance of BPM Requirement Management, Process Architecture Categorization & Classification
Learn how to Value-based Process Modelling
How to work with Business, Information and Data objects extended BPMN and Value Delivery Modelling
Working with multiple owners and thinking in Layers
Applying Process Decomposition & Composition
Uncover the BPM Flow Patterns Role modelling
Working with multiple owners and thinking in Layers
Applying Process Decomposition & Composition
Role modelling
From easy to advanced Rule & Compliance modelling
Learn about Advanced Process Automation
Link between process models and information models
From easy to advanced Rule & Compliance modelling
Learn about Advanced Process Automation
Link between process models and information models
How to Blueprinting and Process Modelling
Discover BPM Innovation and Transformation
Hands on maps, matrices and models, that can be used by anybody
Explore comprehensive Frameworks, Methods and Approaches
Discover Process as the key for the cloud journey
Practical continuous improvement with Way of Governance
Practical guide how organization can apply LEADing Practice eXtended BPMN Standard